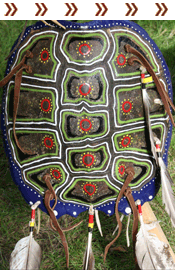 Ojibwe Calendar
By Nick Hockings -
Ojibwe Elder
CALENDAR OF EVENTS
All programs below held at our new Cultural Center,
133 W. 13th Street, Lockport, IL. 60441 unless otherwise noted.
(click to view map).
COMCAST CARES VOLUNTEER WORK DAY
Please Sign Up In Advace
April 22, 2017 from 8am-4pm
For the 5th year in a row, Comcast employees will be working with Midwest SOARRING Foundation volunteers at the Heritage Village location in Lockport, IL. Together Comcast employees and SOARRING members will assist in land clean-up and preparation for spring, which involves clearing out and preparing areas for sacred planting along with building cleaning and organization.
There is work for all ages and interests and we always have such a great day working on the land together! The Heritage Village is located at 249 West 2nd Street, Lockport, IL.
Sign up ahead of time to reserve your teeshirt and lunch choice at Comcast in the Community (https://www.comcastinthecommunity.com/Project/Detail?projectId=8742). If you have questions please contact Sharisse Sheridan at 630.568.3501 or by email at Sharisse_Sheridan@cable.comcast.com.
We look forward to seeing you on April 22nd.
HOLIDAY OPEN HOUSE AND NATIVE AMERICAN MARKET
TWO WEEKENDS:
Sat & Sun. Nov. 19 & 20th and Nov. 26 & 27, 2016
11am-4pm
Shop for unique handmade Native themed arts and crafts at our holiday market with six different vendors. Consider gifts for family and friends and co-workers for year round gift giving surprises.
Vist SOARRING's gallery exhibition The Repatriation of Iron Tail's Possessions: The Face on the Indian Nickel.
Encourage friends, co-workers and neighbors to stop by our open house to meet Midwest SOARRING members, learn about our cultural events, and browse our gift shop. We encourage new members to join our circle.
DRUMMING WITH RON KANUTSKI
Saturday December 3rd, 2016
Noon to 3pm
First United Methodist Church of La Grange,
100 W. Cossitt, La Grange, IL 60525
Join us for an afternoon of drumming with Ron Kanutski. Ron will be with us on Saturday, December 3 from noon until approximately 3PM.
Come and bring your drum or rattle or just join in to hear Ron share some teachings, stories and lots of laughter! Seats are limited. Price per person is $30 at the door. Light refreshments will be served.
For further information, please call 708-257-4300. This event will be held at the First United Methodist Church of La Grange, 100 W. Cossitt, La Grange, IL 60525. We are very fortunate that Ron will be coming in again from Canada. This event fills fast-so book early!
VOLUNTEER APPRECIATION DINNER & ANNUAL MEMBER'S MEETING & HOLIDAY PARTY
Saturday, December 10, 2016
6pm-10pm
Pilcher Park Nature Center
2501 Highland Park Dr.
Joliet, IL. 60432

This gathering is a celebration of the community we build by the work we do. Please bring a dish/dessert to share. Meat, mashed potatoes, rolls, and beverages will be provided. Please RSVP by December 5th 708.257.4300 The schedule is as follows:
Annual Members Meeting 5pm
Annual Holiday Party and Candlelight Walk at 6pm
Dinner and Fellowship following the walk
Decorate the Christmas Tree with your special ornament 7:30pm,
Every year we ask our members to bring items to share with those in need. For the children, please bring winter hats, mittens, or a new toy. For the adults, please bring a non-perishable food item, household goods, or toiletries. These items will be delivered to families in need on nearby reservations.
Our annual tradition is to have every person or family who attends the Holiday Party to make a special ornament for our Christmas Tree. We will take turns sharing the meaning of the ornament and hang it on the tree. Our 'Spirit Tree" will stay decorated until after the holidays, on display at the Nature Center. We hope you will each participate in decorating our SOARRING Family tree.
The event is open and free to all 2016 SOARRING Volunteers and Current Members. Memberships can be renewed at the event. All others will be charged a nominal fee of $8 per person. This is a drug and alcohol free event.
#NoDAPL shirts available for sale at the event. If you are looking for something specific let us know and we can have it there for you, for your holiday shopping needs. We look forward to seeing you at our celebration.